Emigrants return?
A large number of Jewish refugees from central Europe had fought against Nazi Germany in the last years of the war, together with the Allied armies. Among them were many of the older Kindertransport "children". After 1945, they and the other children rescued to Britain in 1938 and 1939 had to decide whether they wanted to stay there for good. In the meantime, most of them had done some kind of professional training or at least had a job; very few had been able to study or were actually planning to study then. Some friends from the hostel had met again in a Hachscharah camp and had plans to emigrate to Palestine.
Walter Braun Swas one of those who had done agricultural training; he had emigrated in January 1939 together with his friend Heinz Grünebaum on a Kindertransport from Cologne. In 1946, Walter Braun took the risk of travelling by boat to Palestine, which was illegal at that time. There he joined a kibbutz, founded a family and became a teacher of Hebrew, held in high esteem by his pupils. Heinz Grünebaum emigrated from England to the USA in 1947, where he studied chemistry and later worked in research. In 1971, Heinz Grünebaum, now Henry Gruen, came back to Germany. He is one of the few people who were rescued by the Kindertransports from Nazi Germany to return there. Henry Gruen kept in close touch with his friend Walter Braun until it was the latter's death in spring 2013. *
< return | forward >
* The text about the friendship of Henry Gruen (formerly Heinz Grünebaum) and Walter Braun is based on: Interview with Walter Braun by Cordula Lissner and Adrian Stellmacher in Maayan Zwi, Israel, 2006; portrait of Henry Gruen in: Unter Vorbehalt. Rückkehr aus der Emigration nach 1945. Katalog zur gleichnamigen Ausstellung des Vereins EL-DE-Haus e.V., hg. vom Verein EL-De-Haus e.V., Redaktion Karola Fings und Cordula Lissner, Köln 1997, p. 156f.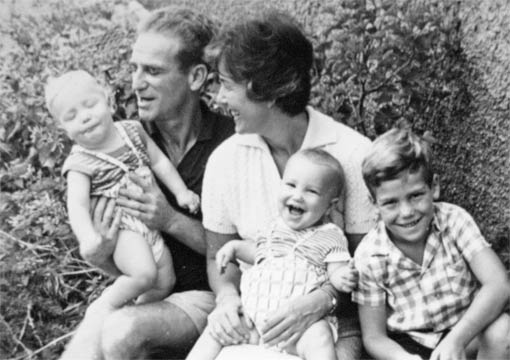 Walter and Karin Braun with their children in Israel, 1950s.
Photo Credit: Courtesy of Karin Braun.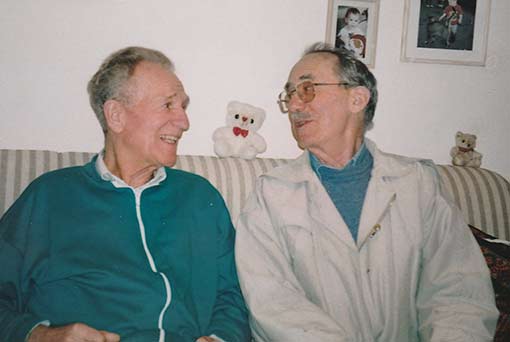 Walter Braun and Henry Gruen in Maayan Zwi, presumably 1990s. Photo Credit: Courtesy of Karin Braun.

Picture at the top: Henry Gruen at his working place at the Max Planck Institute for Radiation Chemistry in Mülheim an der Ruhr, ca 1975. Photo Credit: Collection Unter Vorbehalt. Rückkehr aus der Emigration nach 1945, NS-Documentation Center of the City of Cologne.